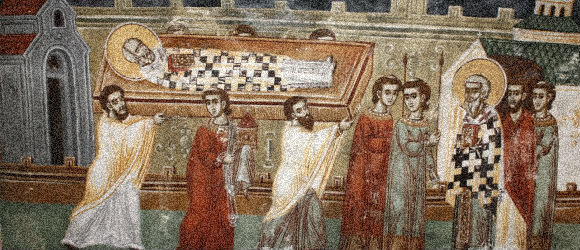 Saint Nicholas (15 March 270 – 6 December 343), was a historic 4th-century saint and Greek Bishop of Myra (Demre-Turkey) in Lycia. Because of the many miracles attributed to his intercession, he is also known as Nikolaos the Wonderworker.
He had a reputation for secret gift-giving, such as putting coins in the shoes of those who left them out for him, and thus became the model for Santa Claus, whose modern name comes from the Dutch Sinterklaas, itself from a series of elisions and corruptions of the transliteration of "Saint Nikolaos". His reputation evolved among the faithful, as was common for early Christian saints. In 1087, part of the relics (about half of the bones) were furtively translated to Bari, in southeastern Italy; for this reason, he is also known as Nikolaos of Bari.
Thousands of tourists from all over the world flock to Demre (formerly Myra) searching for the roots of Saint Nicholas. They come as pilgrims, especially from Russia up to sixty bus loads a day during the peak season where Saint Nicholas is revered as patron and a father of Orthodox faith. The beautiful beaches and warm weather along the Mediterranean coast also draw visitors from both Eastern and Western Europe. They may come to Demre as pilgrims, or, out of curiosity, wondering about the origin of Santa Claus, who is called Noel Baba or Father Christmas in Turkey.
Vendors' stalls and shops are jam-packed with a vast array of St. Nicholas icon images offered in stone, weavings, wax, and metal. They are found as medals, bookmarks, plates, figurines, and icons. Rug dealers hawk his image in several sizes and many colors. Icon images greatly outnumber Santa-types, giving silent testimony to the numbers of Christian, particularly Orthodox, pilgrims.
Saint Nicholas was born in Lycia, inTurkey. During his life, Constantine became Emperor, following Diocletian who had persecuted Christians, including Nicholas. Christianity then flourished, replacing Greek and Roman Pagan deities, becoming the primary religion. However, after the Seljuk Turks' conquest (11th–13th centuries) and with the Ottoman Empire's long reign (14th–20th centuries), the dominant religion in this land, evangelized by the Apostle Paul, became Islam. Today, after the expulsion of Greek Christians in 1922, 99.8%*of Turkish people are Muslim, though Turkey is officially a secular state.
In the early 1950s Turks realized that the Bishop of Myra, Saint Nicholas, was none other than the western world's Santa Claus or Father Christmas. Just as the good saint had brought pilgrims to Myra, and later to Bari, Italy, it was hoped he would again attract tourists and pilgrims with their lira, euros, and dollars.
Turkey issued a Santa Claus stamp in 1955, drawing further attention to St. Nicholas' relationship to this place. Since 1981 regular events somewhat related to the good saint have been held under the sponsorship of the Turkish Ministry of Culture and Tourism and the Anatalyan governor's office. The first Father Christmas Symposium, held in 1983, has become an annual event, lasting about a week over the 6th of December, St. Nicholas Day. Religious and scientific people come from many countries for the Activities for World Peace with Santa Claus, including the Santa Claus Peace Award. This led to the establishment in 1991 of the Santa Claus Foundation to promote peace, friendship and brotherhood.
For many years an Orthodox liturgy was held in the Church of St. Nicholas on the 6th of December, St. Nicholas Day. This was the only service held in the church and it was not allowed from 2002-2006. Government permission was again granted in 2007. However, in January 2008 the name of the St. Nicholas Church (Aziz Nicholas Kilisesi) was officially changed to Father Christmas Museum (Noel Baba Müzesi). This may prevent such a service.
A first ever Easter ritual was held in the museum (church) in 2011. The ritual, led by a priest of the Fener Greek Orthodox Patriarchate in Istanbul, was attended by around 600 people from various countries, including Greece.
Beginning in 2009 the Ministry of Culture and Tourism has encouraged tourism companies to partner with a desitnation wedding company to promote Demre as a wedding site. The International St. Nicholas in Demre, Antalya, Wedding Festival offers a week-long schedule of activities, including Turkish traditions, culminating with a joint group (10-25 couples) civil, not religious, wedding ceremony in the Demre St. Nicholas "museum" on December 6th.
In today's predominantly Muslim Turkey, commercial interests promote Santa Claus to encourage gift giving at New Year's. So Western Santa, Noel Baba, is sometimes seen in shopping areas, on the streets, or in schools. Saint Nicholas is remembered in the land of his birth as a person who cared for all people, especially children. He is appreciated for his caring, humanitarian values, and also because he gives a boost to tourism and the economy.
St. Nicholas

,