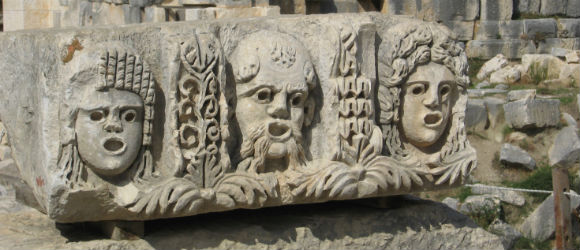 Myra is one of the ancient coastal cities of the Guif of Antalya visited by Paul, Luke, and Aristarchus (Acts 27:5-6). It is where as prisoners they changed boats on their way to Rome in 60 or 61 AD. In Myra the centurion Julius found a ship from Alexandria headed to Italy by way of Cnidus. They had hard sailing throughout the whole trip; Luke's account speaks of headwinds from Sidon to Myra, slow headway to Cnidus, wind continuing against them to Crete, and the fierce northeastern Boreas that raged for days on end and finally shipwrecked them in Malta.
For foreigners the most interesting ruin in Myra today is the Church of St. Nicholas built over the tomb of the saint who was martyred during the reign of Diocletian. The church is not much to look at. Its foundations go back to the fourth century when Nicholas was bishop of Myra. During the invasions of the Saracens in the eleventh century the saint's bones may have been moved to Bari in southern Italy where his fame increased. In fact, he is known as Nicholas of Bari in many parts of the world. He is the patron saint of the Russian, Greek, and Sicilian people, of children, and of sailors. (Myra was the seat of the god of pagan sailors also.)
The legend about St. Nicholas in Myra concerns a poor man who had three marriageable daughters but no way to provide their necessary dowries. St. Nicholas clipped under their window one night and tossed three purses of gold into the house to save them from prostitution. These three purses have become the three gold balls identifying a pawnbroker's shop. This custom of giving gifts in secret, first observed on the eve of his day, December 6, was moved to December 25 and his name corrupted to Santa Claus.
In addition to the ruins of the church there is a Roman theater in Myra and an unusual rock necropolis.
Myra (Demre)

,