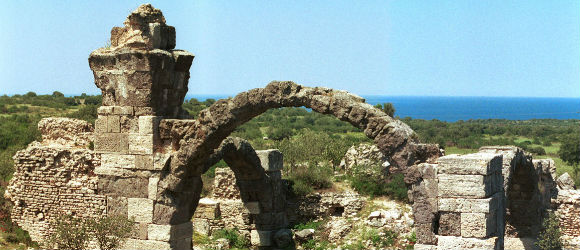 According to the historian Strabo, Troas was a renowned city. It was founded by Antigonus and Lysi-machus at the command of Alexander the Great, and its fortifications date from that time. The city had a good but artificial harbor which helped it become a thriving commercial center. At the same time it was easily plundered so very little is left of what must once have been impressive. Among the thistles and trees that have grown up one can make out the city walls, theater, stadium, Herodes Atticus bath and necropolis. The nearest village is Odun İskelesi about one kilometer to the north.
Paul visited Alexandria Troas at least twice; the first was when he and Timothy had wanted to go into Bithynia but had been prevented by the Holy Spirit. Instead they skirted Mysia and reached Troas where during the night Paul saw a vision of a Macedonian asking him to come help him. Probably Luke joined them here: from this point on in Acts the story is in the first person plural, "we". Rather than spending much time in Troas they found a ship quickly and sailed first to Samothrace and then went on to Neapolis (Kavala) and Philippi.
There is some doubt about whether Paul went back through Troas again before he spent a week there on his way to Jerusalem and imprisonment; it is hard to follow Paul's movements with certainty from what is reported in Acts. Of course that is not Luke's fault: his purpose in writing is to show how Paul spread the Christian message, not where he spent the night. Luke, however, does give many more details about their sea voyages than their travels overland; perhaps he shows the eager curiosity of an amateur sailor.
In Troas the second time Paul spoke to the group that had gathered for the breaking of bread on Saturday night. The meeting went on until late, Paul himself speaking until midnight. Probably the room got stuffy from all the people gathered there and from all the lights burning. Finally a boy named Eutychus who was sitting on one of the window ledges went to sleep and fell three stories to the ground. He was picked up for dead, but Paul, who went down, looked at him and said, "Stop this commotion; there is still life in him" (Acts 20:10). After this incident Paul went back upstairs, had something to eat, and continued talking until sunrise. One supposes the room had gotten aired out a bit in the meantime.
It could be that during this visit to Troas Paul left his cloak behind in the excitement. Maybe it was used to cover Eutychus and keep him warm after his fall. Whatever the reason, Paul asks Timothy to "bring the cloak I left with Carpus at Troas, and the books, above all my notebooks" (II Timothy 4:13).
Troas is also mentioned in II Corinthians 2:12 when Paul comments that he was disappointed at not finding Titus there, and so he went on to Macedonia. This probably refers to his first visit to Troas when he did not stay but quickly took the ship and went to Philippi.
In describing the various sites of Anatolia, it is difficult to stay strictly within the limits of only those mentioned in the Bible. Some sites are there obviously only incidentally; some others can be guessed at although they are not named; and some perhaps were so well known that mentioning them may have seemed unnecessary. Archeology today has brought many places to our attention which, although they do not appear on the pages of the Bible, have added greatly to our knowledge of people living in the Near East: Çatal Höyük, Aphrodisias, and Troy to mention only a few. However, two other places, Nicea (İznik) and Byzantium or Constantinople (Istanbul), have been so important in subsequent Christian history that we are including a few brief comments on them.
Alexandria Troas

,