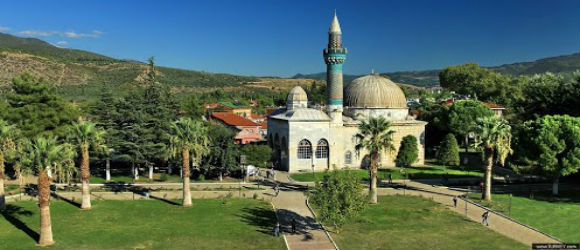 At the time of Paul's travels, Nicea shared with Nicomedia (İznik) the rivalry for the most important city of Bithynia. In 74 A.D. it was incorporated into the Roman province of Asia and, in spite of being levelled In the earthquake of 123 A.D., it continued to flourish.
The importance of Nicaea in Christian history is in the two church meetings held there, the First Ecumenical Council of 325 and the Seventh Ecumenical Council of 787. The outcome of the First Council of Nicaea was primarily a condemnation of the teachings of Bishop Arius. It also was the first attempt to establish the criteria of Christian orthodoxy and membership by a creed. And it admitted the principle of state-church cooperation. Constantine delivered the opening address to the synod which was convened in the imperial palace on May 20th; he ended it with a brilliant banquet there on July 25th.
The Seventh Ecumenical Council was prompted by the iconoclastic controversy. It was held in the Church of St. Sophia, the ruins of which can be seen at the main crossroads in the center of the city. Among other things this council declared that icons deserved reverence (Gr. proskynesls) but not adoration (Gr. latreia) which was due to God alone. This statement was confirmed by Pope Adrian I, but partly because of an incompetent translation it was not acceptable generally in the West. For instance, the two words, proskynesis and latreia, were equated in the translation so it appeared that the Council ordered Christians to worship icons the same way they worshipped God. With this Council the division between Rome and Constantinople (which had been stimulated by the Fourth Ecumenical Council in Chalcedon in 451) became complete, the Roman Catholic Church and the Eastern Orthodox Church each going its own way.
Iznik ( Nicea )

,