Ephesus Map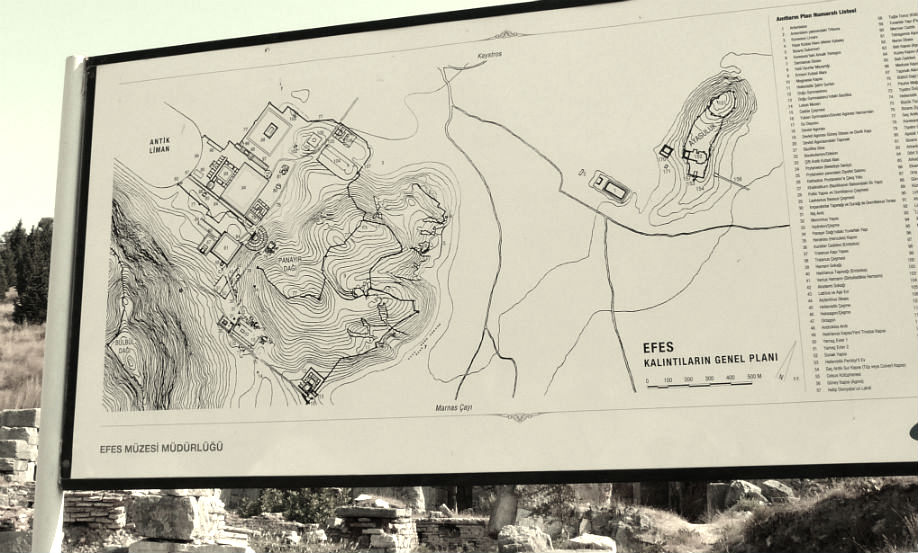 ---
---
The first foundation of the ancient city of Ephesus, currently in the Selcuk district of the Izmir province, dates back to about 6000 BC. Recent explorations and excavations have uncovered mounds (pre-historic settlements in hills) near Ephesus, and Bronze Age and Hittite settlements on the Ayasuluk Hill, where the castle was built.
Get in
---
You can walk from Selcuk to Ephesus. Most of the hotels have bikes that you can borrow for a while. It is a 4km walk in a good walking way. It is also possible to take a taxi, which is relatively expensive,compared to other Turkish transportation. Most pensions and hotels in Selcuk offer rides to Ephesus.
The cheaper way is to go by minibuses(shared taxi)(Called as Dolmus in Turkish) which are available every 10-15 minutes from Selcuk central bus station or from Kusadasi Dolmus stop. The minibus will leave you at around 1km from the gate situated downhill.
By airway to Izmir Adnan Menderes International airport. By train(from Izmir airport) , By bus (from Izmir central bus station) or Hotel shuttles to Selcuk. Airport to Selcuk, 55 Km.
By cruise ship via the port of Kusadasi. By bus or minibus (from Kusadasi central bus station) goes about every half hour, or by taxi to Selcuk,19 Km.
Entry tickets cost 25 TL/person. Excluded Terrace houses inside Ephesus which also cost 15 TL/person.
April-October Opening Time 08:30
April-October Closing Time 19:00
November-March Opening Time 08:00
November-March Closing Time 17:00
Open everyday
E-mail : efeskapi@muze.gov.tr – efesmuzesi@kultur.gov.tr
Phone : (232) 892 60 10 – (232) 892 60 11
Fax : (232) 892 70 02
Ticket booths are closing 30 minutes or an hour before the museum closing time.
---
ephesus ruins map | ephesus map google | historical map ephesus | ephesus bible map | ancient ephesus map | ephesus map of turkey
---
Ephesus Map

,