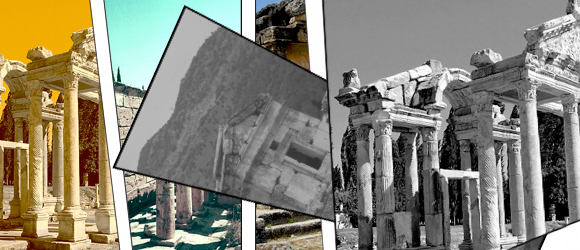 Formerly Diospolis later called Rhoas, Denizli was founded 6 kms East of the modern town, near the village of Eskihisar, between the streams of Gumuscay and Ellez. In the II century B. C, the Seleucian king Antiochus II called the city Laodicea after the name of his wife.
In the first century Laodicea, conquered by the Romans, became one of the largest cities of their province of Asia. In the period of expansion of Christianity it became an important centre of the new faith. One of the Seven Churches of the Apocalypse was erected here.
In 1428 Laodicea was conquered by the Ottoman Turks who called it first Ladik or Lazik and later Denizli.
Ruins of Denizli ;
The ruins of Laodicea are situated 6 kms. East of Denizli on the road to Pamukkale (Hierapolis). Among the Roman era one can see the aqueducts, the theatres, the gymnasium and the city walls.
Pamukkale (Hierapolis) :
Pamukkale which is almost the symbol of Archeological site of Denizli is located 22 kms. north of the town, near historical ruins of Hierapolis. In Pamukkale the calcareous waters, have created travertins in form of terraces which are a real wonder nature. The town of Hierapolis was founded over the travertins of Pamukkale on a flat-land which dominates the plain of Cürüksu.
The monuments which can be seen today in Hierapolis, are :
The baths, the gymnasium, the main street, the agora, the South and North gates, the walls, the churches and several funeral monuments.
Private Ephesus tours from Ruins of Denizli Turkey. Enjoy!
Archeological site of Denizli

,