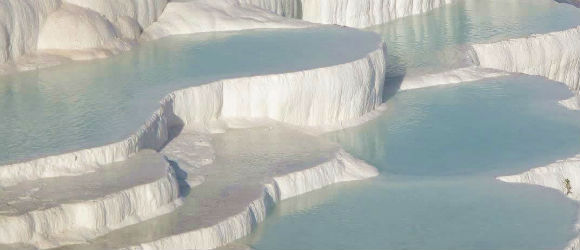 Pamukkale village has some charming hotels and pensions, and despite the constant coach parties it's a good place to get a taste of village life, if you steer clear of the main road. Several other attractions are within easy reach, including Afrodisias, one of Turkey's most complete and absorbing archaeological sites, and Laodicea, one of the biblical Seven Churches of Asia.
Long before Unesco, the Romans recognised the appeal of the site and built a large spa city, Hierapolis, to take advantage of the water's curative powers. The tourist boom of the 1980s and 1990s had a detrimental effect on the site, as a line of hotels above the travertines drained away the waters, leaving the travertines dry, dull and dirtied. In a drastic attempt to preserve the site, all the hotels have been demolished and visitors can no longer bathe in the pools; however, the flow of water is still very slow, and it may be that the real culprits are the many swimming pools in the village below.
Calcium's not just good for bones. If the many habitués of the spa town of Pamukkale are to be believed, it works wonders on muscles and sinews too. 'Cotton Castle', 19km north of Denizli, has built a centuries-long reputation on the restorative qualities of its calcium-rich waters. The unique formations of travertine (calcium carbonate) shelves, pools and stalactites, which hug the ridge above town like a white scar, were created by the area's warm mineral water, which cools as it cascades over the cliff edge and deposits its calcium. It's a strange piece of landscape unlike anything else you'll see in Turkey, and it now appears on the Unesco World Heritage list.
Pamukkale

,