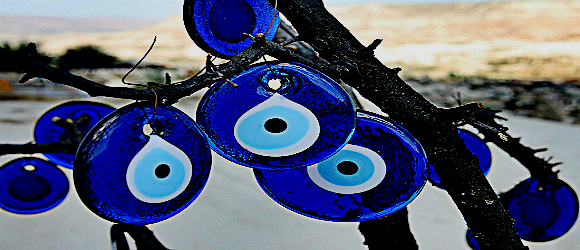 Some of the Turkish superstitious beliefs are the same as international ones such as a horseshoe brings good luck, a black cat brings bad luck, walking under a ladder is not good etc. but you'll be surprise to hear these:
If somebody's clothes need repairing with stitches, this should be done while the clothes are being worn or the person should have a piece of wood like a match in his mouth untill the repair is finished.
Kissing people on the eyes brings about separation, when a child is kissed in the nape, he is believed to become a liar. When a baby is kissed in the lips, he starts to speak late.
When somebody jumps over a child, he is destined to remain short; should anybody do so, he has to jump back again in the opposite direc¬tion to "UNDO" the superstition.
Water will be poured into the street when someone is going away: So he will be back soon. If two men's heads butt each other, they have to repeat it once more, otherwise they will become bald.
People cutting their nails at nightime will have shorter lives. When somebody hears ringing in his ears, it means that he is being thought of by someone.
A baby's crawling predicts visitors to that house soon. A person should not give a knife directly to another person. The knife should be put over the table and the other person should get the knife. If by chance the person forgets and she gives the knife directly for the other person, the person that receives the knife should spit over the knife. This "spit over the knife" protects against a discord among themselves.
The howling of a dog forebodes in imminent death.
Having an itching palm is the sign that you will come into money.
Children, beautiful people, nice cars, newly opened shops or buildings should have a blue stone with the eye (NAZAR BONCUĞU) otherwise of other people's jealousy will affect them adversely.
Turkish Superstitions and Beliefs

,