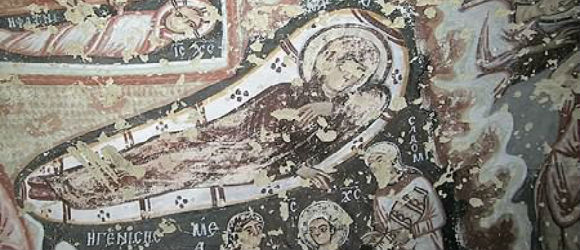 Kılıçlar Church (Swords Church), is in Kılıçlar Valley, which is near Göreme Open Air Museum. Chapel 29 has always confused scholars because of its painting programme. Hence, there are different views about the date of this church. According to several authors, however, Kılıçlar Church is the earliest inscribedcross church with the Church of Direkli, which is in Ihlara, in Cappadocia.
In defining the date of the church, scholars generally use the decoration programme of Chapel 29. For instance, Restle (1967, 17-30) draws a stylistic parallel with the illuminated manuscript of 905, known as the Paris Gregory and this is the date generally given for Kılıçlar Church. The church is something of a curiosity in that it has a very long narrative cycle, stylistically and iconographically.
Unfortunately you will not see Chapel 29 in Goreme, because it is closed to the visitors. Since Yorgo Seferis visited the church with a special permission in 1950 , it appears that the church has been closed for many years.
Although Kılıçlar Church is not directly associated with the Kılıçlar monastery complex, the name of Kılıçlar obviously comes from the name of Kılıçlar Valley. Kılıçlar Church is an inscribed-cross church fronted by small, domed-narthex.
It has a different entrance compartment. A rectangular portico with an oblong room opens to the outside through a single archway. In terms of its planning, this type of entrance compartment is similar to the narthex. The only feature fundamentally different is that the entrance provides an access.  As in the other inscribed-cross churches, it has three apses of which the main apse is larger than the side ones.
In front of the small apses, there are small subsidiary domed places. "Benches are cut along the walls including the area in front of the three sanctuaries at the eastern end" four columns support the central dome but the northeast and southwest columns are completely destroyed. The cross-arms are barrel-vaulted.
The naos has a full painted decoration of high quality, described in detail by Jerphanion. Christ in Majesty (conch) and Bishop Saints Leontios, Athanasios, Blaisios, Gregory of Nyssa, Gregory of Nazianzos is placed on the main apse but others are lost.
The scenes of Virgin and Child and Divine Liturgy on the northern apse are visible today. On the south apse, the decoration is lost.
Swords Church

,