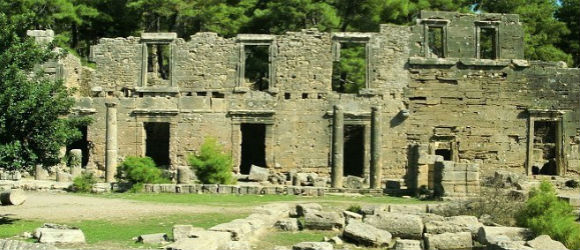 Pamphylia, the narrow coastal area between the Taurus Mountains and the northern extent of the Mediterranean Sea is the district of Pamphylia. Side, Perga, Aspendos, and Attalia (Antalya) are among the cities important in antiquity; Antalya is still an important port.
The region of Pamphylia first enters history in Hittite documents.  In a treaty between the Hittite Great King Tudhaliya IV and his vassal, the king of Tarhuntassa, we read of the city "Parha" (Perge), and the "Kastaraya River" (Classical Kestros River, Turkish Aksu Çayı).
The first historical mention of "Pamphylians" is among the group of nations subdued by the Mermnad kings of Lydia; they afterwards passed in succession under the dominion of the Persian and Hellenistic monarchs. After the defeat of Antiochus III in 190 BC they were included among the provinces annexed by the Romans to the dominions of Eumenes of Pergamon but somewhat later they joined with the Pisidians and Cilicians in piratical ravages, and Side became the chief centre and slave mart of these freebooters. Pamphylia was for a short time included in the dominions of Amyntas, king of Galatia, but after his death lapsed into a district of a Roman province. The Pamphilians became largely hellenized in Roman times, and have left magnificent memorials of their civilization at Perga, Aspendos and Side.
As of 1911 the district was largely peopled with recent settlers from Greece, Crete and the Balkans, a situation which changed considerably as a result of the disruptions attendant on the fall of the Ottoman Empire and the war between Greece and Turkey in the 1920s
Pamphylia

,