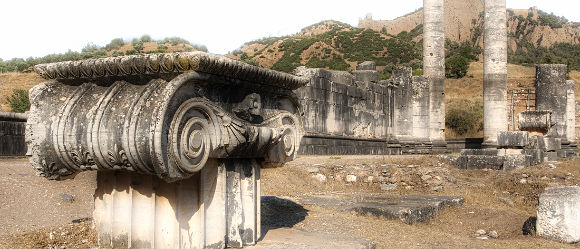 Sardis was the capital of Lydia. The district boundaries changed at different times, but in general the land was that of the present provinces of İzmir and Manisa.
According to Herodotus, Lydus, the founder, was the brother of Mysus (Mysia) and Car (Caria). The Lydians were known to Jeremiah (46:9) as mercenaries in the Egyptian army. Herodotus also says that the Lydians were the first to strike and use gold and silver coins. There are Lydian inscriptions of about the sixth century B.C. concerning mercenaries in the Egyptian army."
Lydia was an Iron Age kingdom of western Asia Minor located generally east of ancient Ionia in the modern Turkish provinces of Uşak, Manisa and inland İzmir. Its population spoke an Anatolian language known as Lydian.
At its greatest extent, the Kingdom of Lydia covered all of western Anatolia. Lydia (known as Sparda by the Achaemenids) was a satrapy (province) of the Achaemenid Persian Empire, with Sardis as its capital. Tabalus, appointed by Cyrus the Great, was the first satrap governor.
Lydia was later the name of a Roman province. Coins are said to have been invented in Lydia around the 7th century BC.
The boundaries of historical Lydia varied across the centuries. It was bounded first by Mysia, Caria, Phrygia and coastal Ionia. Later, the military power of Alyattes II and Croesus expanded Lydia, which, with its capital at Sardis, controlled all Asia Minor west of the River Halys, except Lycia. Lydia never again shrank back into its original dimensions. After the Persian conquest the River Maeander was regarded as its southern boundary, and during imperial Roman times Lydia comprised the country between Mysia and Caria on the one side and Phrygia and the Aegean Sea on the other.
Under the tetrarchy reform of Emperor Diocletian in 296 AD, Lydia was revived as the name of a separate Roman province, much smaller than the former satrapy, with its capital at Sardis. Together with the provinces of Caria, Hellespontus, Lycia, Pamphylia, Phrygia prima and secunda, Pisidia and the Insulae (Ionian islands), it formed the diocese (under a vicarius) of Asiana, which was part of the praetorian prefecture of Oriens, together with the dioceses Pontiana (most of the rest of Asia Minor), Oriens proper (mainly Syria), Aegyptus and Thraciae (on the Balkans, roughly Bulgaria). Under the Byzantine emperor Heraclius (610-641), Lydia became part of Anatolikon, one of the original themata, and later of Thrakesion. Although the Seljuk Turks conquered most of the rest of Anatolia, forming the Sultanate of Ikonion, Lydia remained part of the Byzantine Empire. During the occupation of Constantinople in the Fourth Crusade, Lydia continued to be a part of the Byzantine orthodox 'Greek Empire' based at Nicaea.
Lydia was captured finally by Turkish beyliks, which were all absorbed by the Ottoman state in 1390. The area became part of the Ottoman Aydın Province, and is now the westernmost part of the modern republic of Turkey.
Lydia

,