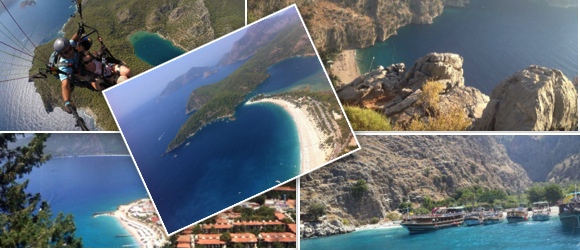 Oludeniz though the name means "Dead Sea" this morbid moniker comes not from mineral-saturated waters, or fetid stench, but merely from the fact that the lagoon remains placid and tranquil when storms rage and Mediterranean waves buffet the neighboring coast and beach. It's peaceful, not gloomy.
Or at least it used to be peaceful. Since a paved road has been driven over the mountains from Fethiye, less than ten miles away, word has gone out that the beach at Ölüdeniz is simply breathtaking in its beauty. That has brought vacationers and disturbed the earlier perfect tranquility. But Oludeniz is far from "ruined," and you'll love it.
Getting to Oludeniz
Getting to Oludeniz from Fethiye is easy. Just go to the post office on Atatürk Caddesi. Behind it are dolmushes bound for the beach. Hop in, pay 5 TL , and you'll be there in no time.
Orientation
The dolmush climbs into the hills through pine forests, then comes over a pass, and the panorama of Oludeniz is revealed. The great swath of beach is obviously too big to be easily crowded. The lagoon, to the right, is hidden at first.
Once you actually arrive at the beach, note these facts: the police (jandarma) station, post office, Ölüdeniz Piknik Yeri (picnic and beach park), and Motel Meri are to your right. Most of the hostelries, camping areas, restaurants, and Kıdrak Orman Parkı camping area and beach are to your left. Kidrak is about two miles from the post office, along a road gouged from the side of the mountain.
Oludeniz hotels and motel Accommodations
The most of the motel has its own beach and seaside restaurant. If you've brought your camping equipment, you'll be happy at Oludeniz, for camping areas abound. The prime camping spot is at Kidrak, a park operated by the national forestry service. Prices are tow, all is proper, and sites are shaded by whispering pines.
If you have never been to Oludeniz., you have seen nothing yet !

,