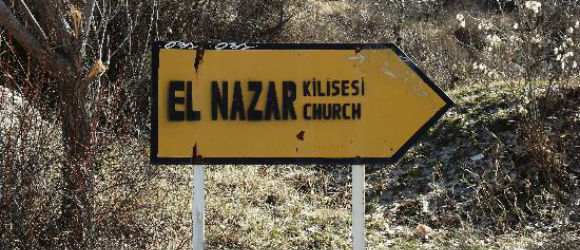 El Nazar Church is situated in the El Nazar valley, about 800m to te right from the road to the Goreme Open air museum. This church was carved from one piece of rock in a "T" shape. It is cruciform with three apses, the main apse opening up in the center where the barrel vaulted arms of the crucigorm meet. The floor has been completely destroed, as has part of the apse. The frescoes show scenes which follow each other in chronological order. This church can be dated to the end of the 10th century.
El Nazar is one of the mediaeval rock-cut churches in the Goreme open air museum in Cappadocia. The church is carved into a freestanding rock which is suffering from damage caused by climatic and hydrogeological factors. The losses in the outer wall and floor of the church are signs of impeding danger of further losses. In 1987, the Turkish Ministry of Culture and Tourism initiated a project to identify measures for the structural consolidation of the church. A report and a project was presented to the Ministry by the authors, covering the proposed interventions to structure and the surrounding area.
The structure, whose fresco paintings portray miracles from the chi of Jesus and the saints, is dated to the twelfth century.  The vaults church on the T-plan are decorated with medallions. The floor of the church is completely destroyed and opened to visitors after an intensive renovation work. The frescoes in El Nazar Church are very important by beginning the portrayal from the childhood of Jesus until the risen of Christ by chronological.
El-Nazar Church

,