Bursa lies in the northwestern part of Turkey near the Sea of Marmara, about 20 km inland.
Bursa was the first major city the Ottomans, who started as a small emirate in the countryside just east of Bursa, had taken control of. As such, it served as the first capital city of the Ottoman Empire, from 1326, when it was captured from the Byzantines, to 1365, when the capital was moved to Edirne in European Turkey, as sultans started to turn their attention to Europe. Most of the historic sights of the city date back to this early period of the Ottomans.
Today, with a population of more than 2,500,000, Bursa is the fourth largest city in Turkey after Istanbul, Ankara, and Izmir. It is famous for its peach, chestnut, and silk, although lately, heavy industry located in the outskirts of the city has surpassed these traditional industries.
Furthermore, Uludağ one of the highest mountains in Turkey—lies very close to Bursa and is the main winter sports center of Turkey.
History
---
Bursa dates back to at least 200 BC. According to legend, it was founded by Prusias, the King of Bithynia, but soon came under the sway of Eumenes II of Pergamum and thereafter under Roman rule.
Bursa first grew to importance in the early centuries of Christianity, when the thermal baths at Çekirge were first developed. However, it was Justinian I (r AD 527–65) who really put Bursa on the map.
With the decline of the Byzantine Empire, Bursa's location near Constantinople attracted the interest of would-be conquerors, including Arabs and Seljuks. Having seized much of Anatolia by 1075, the Seljuks took Bursa (then Prusa) with ease. But 22 years later the First Crusade arrived, and the city entered a cycle of conquest and reconquest, changing hands periodically for the next 100 years.
After the Turkish migrations into Anatolia during the 11th and 12th centuries, small principalities arose around individual Turkish warlords. One such warlord was Ertuğrul Gazi, who formed a small state near Bursa. In 1317 Bursa was besieged by his son Osman's forces and was starved into submission on 6 April 1326. Under the rule of Osman Gazi, Bursa became the capital of the nascent empire that took Osman's name, Osmanlı (Ottoman).
Osman was succeeded by Orhan Gazi (r 1326–59), who expanded the empire to include everything from what is now Ankara to Adrianople (Edirne), effectively encircling the Byzantine capital at Constantinople. Orhan took the title of sultan, struck the first Ottoman coinage, and, near the end of his reign, was able to dictate to the Byzantine emperors, one of whom, John VI Cantacuzene, became his close ally and father-in-law.
Although the Ottoman capital moved to Edirne in 1402, Bursa remained an important city. Both Osman and Orhan were buried there; their tombs are still important monuments.
With the founding of the Turkish Republic, Bursa started to develop as an industrial centre. In the 1960s and '70s boom times arrived as Fiat (Tofaş) and Renault established factor­ies here. Today it's still a major commercial centre and one of Turkey's wealthiest cities.
Must see places in Bursa
---
Ulucami, (in downtown),  the "great mosque" of Bursa. Built in early Ottoman period, in 1399, it resembles more of earlier Seljuq buildings of inland Anatolia than the typical Ottoman mosques such as Blue Mosque of Istanbul built later. Ulucamii is perhaps most reknown for the striking calligraphic panels that adorn its walls and columns as well as the fountain within the mosque whose trickling sounds contribute to its serene atmosphere.
Orhan Camii ve Külliyesi (Orhan Mosque)
Yeşil Camii(Green Mosque)This mosque is in the Yesil or 'green' district of Bursa just left over the bridge. It contains a wonderful Turbe or tomb completely covered by tiles inside and out. The mosque opposite is very unusual in that it has a fountain inside the prayer area – with lots of legends attached to it. It is also built in a cruciform shape. No one knows why. Beside it are tea gardens with spectacular views over the Bursa valley and Uludag mountain.
Emir Sultan Camii
Muradiye Camii
Hüdavendigar Camii
Yıldırım Camii
Koca Sinan Paşa
İshak Paşa Külliyeleri
Celal Bayar Müzesi
Yeşil Türbe(Green Tomb) is the tomb of the Ottoman Sultan Mehmed I (1412-1420) and is the iconic monument of the city.
Emir Sultan Türbesi
Gazi Timurtaş Paşa Türbesi
Gazi Osman Türbesi is the tomb of the first Ottoman sultan located in the Tophane district
Orhan Gazi Türbesi is the tomb of the second Ottoman sultan, the son of Osman. It's located immediately next to his father's tomb in the Tophane district.
The Muradiye Complex surrounding the Muradiye Mosque is a small necropolis filled with tombs of illustrious Ottoman figures such as Murat II; Prince Mustafa, son of Suleiman the Great; Gülbahar Hanım, midwife of Mehmet the Conqueror and various wives of sultans.
Museum of Turkish and Islamic Art, (Part of Yeşil Camii complex). Jewelry boxes, vases and pottery, belts an, accessories and clothes, tools, manuscripts, and more. Small, but free museum is worth seeing if you are already at at Yeşil Camii and Yeşil Türbe. Free.  edit
İnkaya  a huge centuries-old (well, approximately 600 years, to be precisely) plane (Platanus orientalis) tree with an open-air café sheltered by its deep shadow, on the foothills of (and just off the road to) Uludağ.
Darüzziyafe. A poorhouse during the Ottoman period, this building now serves as a family restaurant (with no alcohol service).It is a stunningly restored building in the Muradiye district of Bursa. The garden has wonderful views of Bursa. The cuisine is pure Ottoman and difficult to find in a modern Turkish city.[8]
Sarı Konak In Tophane.
Balıbey Han
Koza Han
Irgandı Köprüsü (Bridge)in Setbasi.Its an old version of shopping malls.There are small shops on bridge.
Cumalıkızık, a village founded more than 700 years old. There are 265 centuries-old half timbered houses in the village and approximately 190 of them are still occupied.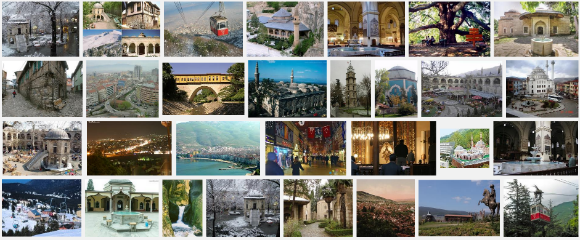 Bursa, Turkey

,