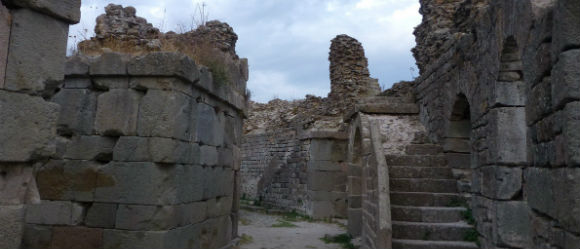 An ancient medical centre, the Asclepion was founded by Archias, a local who had been cured at the Asclepion of Epidaurus (Greece). Treatments included mud baths, the use of herbs and ointments, enemas and sunbathing. Diagnosis was often by dream analysis.
Pergamon's centre came to the fore under Galen (AD 131–210), who was born here and studied in Alexandria, Greece and Asia Minor before setting up shop as physician to Pergamum's gladiators. Recognised as perhaps the greatest early physician, Galen added considerably to knowledge of the circulatory and nervous systems, and also systematised medical theory. Under his influence, the medical school at Pergamum became renowned. His work was the basis for Western medicine well into the 16th century.
The Asclepion is 2km uphill from the town centre as the crow flies (but it's a winding road), signposted from Cumhuriyet Caddesi just north of the tourist office and PTT. A second road runs from Böblingen Pension, southwest of town. It's closed to motorists and we don't recommend walking it, as it passes through a large military base; if you do, be off it by dusk and don't take photos.
A Roman bazaar street, once lined with shops, leads from the entrance to the centre, where you'll see the base of a column carved with snakes, the symbol of Asclepios (Aesculapius), god of medicine. Just as the snake sheds its skin and gains a 'new life', so the patients at the Asclepion were supposed to 'shed' their illnesses. Signs mark a circular Temple of Asclepios, a library and, beyond it, a Roman theatre.
You can take a drink from the sacred well, although the plastic tube out of which the water flows doesn't look particularly inviting, and pass along the vaulted underground corridor to the Temple of Telesphorus, another god of medicine. Patients slept in the temple hoping that Telesphorus would send a cure or diagnosis in a dream. The names of Telesphorus' two daughters, Hygeia and Panacea, have passed into medical terminology.
Asclepion

,