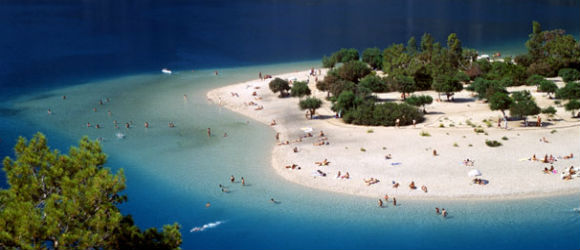 WITH ITS MANY ROMANTIC SPOTS, TURKEY IS A PERFECT HONEYMOONERS' PARADISE. FROM GÖKÇEADA TO MARDİN, FROM A JEEP SAFARI IN THE TAURUS TO A BLUE CRUISE OFF BODRUM, HERE ARE A FEW HONEYMOON HINTS.
If you want to spend your first memorable days of marital bliss in a land of fairytale beauty, then Mardin is just the place for you. For this ancient city has succeeded in preserving its mystery like a melody whispered down the centuries. The years come and go, but Mardin's beauty, engraved in stone, never changes. For those who would like to spend a few days in a lunar landscape of eerie rock formations where dream seems to morph into reality, we recommend Cappadocia.
In this region, where a hot air balloon ride will afford you breathtaking views, you can stay either in a millennia-old cave, or in a real fairy chimney turned boutique hotel. And if your honeymoon won't be complete without the scent and sound of the sea, we suggest a blue cruise. Blue cruise tours leaving from Bodrum, Marmaris, Fethiye, Göcek, Kaş and Antalya let you explore the tiny, secluded pine coves perfect for a honeymoon couple.
With its tranquil bays, picturesque villages and romantic sunsets, Gökçeada is a land of beauty and repose. This island, where Turkish and Greek culture intertwine, is a honeymooners' haven with its pristine beaches and crystal-clear waters. And when you climb the cobbled roads lined with oleander to the century-old rustic coffeehouses, your reward is a cup of the island's famous 'dibek' coffee.
Other alternatives include sampling the local seafood at a humble fish restaurant and making a boat tour among the secluded coves. You can swim at several points along the island's coast, but according to the islanders Kefaloz boasts a beach to vie with the French Riviera. If the usual honeymoon tours strike you as dreadfully dull, and a stroll on the beach followed by a candlelight dinner is not your idea of a romantic time, then how about a jeep safari in the Taurus Mountains to get your adrenaline rushing?
You can either join a group or rent your own jeep and discover the sharp peaks, deep gorges, green valleys and waterfalls on your own. The tortuous mountain roads that wind through the Taurus' staggering karstic valleys will bring you in touch with vestiges of civilizations going back thousands of years. You will also meet the hospitable nomadic peoples of the 'Yörük' villages. For the best results, plan your exciting Taurus itinerary with the help of a travel agent.  Tours range from the typical day tour to those up to a week in length.
If you're looking to leave behind city life and all its woes and lose yourself in a refuge above the clouds, we recommend the valleys between Maçka and Zigana at Trabzon. Far from prying eyes in the magical atmosphere here on Turkey's Black Sea coast, you will feel you've fallen plumb into the bosom of nature. If you like you can even hike up to the Sumela Monastery, a traditional haven of seclusion. For accommodation, the neighboring valleys are dotted with picturesque mountain dwellings like matchstick models.
What's more, inspired by the region's characteristic local architecture, all these houses are completely free-standing and boast a stone veranda with a mountain view as well as all the comforts of home. Breakfast consists of cornbread, fresh butter, country cheeses, 'kuymuk' (a sort of cheese and cornflour pancake), homemade jams, highland honey and tea.
The dinner menu is no less lavish with kale soup, 'kuymuk', braised Swiss chard, pickled beans fried in oil, anchovy bread and rice pudding. An additional boon of the highland honeymoon are romantic hiking trails through the smoky mountains amidst natural springs and rushing streams large and small. In short, there are countless romantic spots just waiting for you in Turkey. So get ready, we're going on a honeymoon!
There are many places in Turkey that will inspire romantic feelings. Mardin, the Kazdağları Mountains, Çamlıhemşin, Doğubeyazıt… Places that will enhance your awareness of the life of the past, places where you can feel the energy of loves experienced thousands of years ago. The route from Trabzon to Sumela casts a completely unique spell. The isolated villages around Assos also have a lot to offer romantics. You will find Homer here and feel the Aegean's myth-laden breezes.

You can even count the stars at night from the terrace of the village house in which you stay. I find Turkey's lakes romantic too. Lake Van, for example. And Edremit, which you should view from the road leading out of town. Or pitch a tent beside one the many mountain lakes on the eastern Black Sea. The volcanic lakes on the Bingöl side of Mount Nemrut are very special too.
A romantic piece on Turkey

,