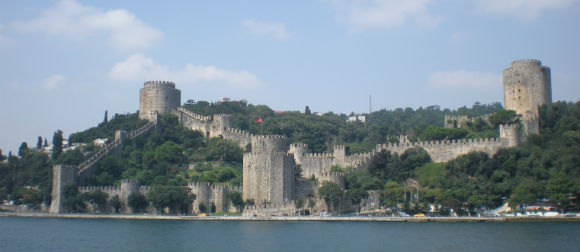 Rumelihisarı (Fortress), located in the Sarıyer district of Istanbul, Turkey, on a hill at the European side of the Bosphorus. It gives the name of the quarter around it. It was built by the Ottoman Sultan Mehmed II between 1451 and 1452, before he conquered Constantinople. The three great towers were named after three of Mehmed II's viziers, Sadrazam Çandarlı Halil Pasha, who built the big tower next to the gate, Zağanos Pasha, who built the south tower, and Sarıca Pasha, who built the north tower.
Rumelihisarı was built by Sultan Mehmed II between 1451 and 1452 in order to control the sea traffic on the Bosphorus strait and prevent aid from the Black Sea to reach Constantinople during the Turkish siege of the city in 1453, particularly from the Genoese colonies such as Caffa, Sinop and Amasra. In a previous Ottoman attempt to conquer the city, Sultan Murad II (1404–1451) had encountered difficulties due to a blockade of the Bosphorus by the Byzantine fleet.
Since 1960 Rumelihisarı has been a museum and an open-air theater for various concerts at festivals during the summer months.
Rumelihisari (Fortress)

,