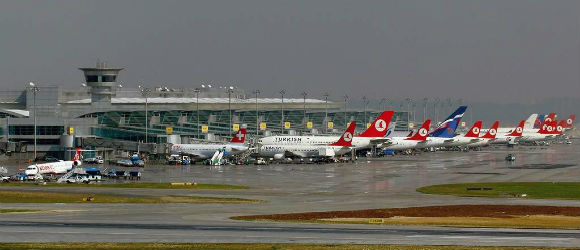 Istanbul's international Atatürk Airport is around 25km (15 miles) west of the city centre in Yeşilköy. The compact international terminal (Dış Hatlar) has several shops, restaurants, bars, a massage parlour, post office, 24-hour banking, exchange bureaux, car hire, a tourist office and hotel reservation desk. From landing to clearing customs usually takes 20 minutes. Security checks can delay check-in, so arrive at least 90 minutes before your flight.
A second international airport in Istanbul is, Sabiha Gökçen, in Kurtköy on the Asian side was intended to handle three million travellers a year, but is woefully underused.
Getting from the airport
---
There are three options for getting from the airport to the city centre: bus, light rail/underground or taxi. The choice depends on where you're staying and how much time you've got.
By bus
Havaş operates the reliable express airport bus service, which leaves for four different destinations from a signposted stop outside the arrivals hall. The only one of use to visitors is the Taksim service – fine if you're staying in Beyoğlu or Taksim – which runs at 5am, 6am, then half-hourly until 11pm, stopping en route at the Bakırköy Sea Bus Terminal, Aksaray and Tepebaşı (just short of Taksim). The fare is around TL8.50 (plus a 25 per cent surcharge between midnight and 6am), collected by a conductor on board.
By light metro
The underground, or 'light metro', takes you to Aksaray in half an hour and costs just TL1.30; from here, you can get a bus to Taksim or a tram to Sultanahmet. Services run 6.15am-midnight Mon-Sat, 6.30am-midnight Sun.
By taxi
The simplest option is to take a taxi from the rank outside the arrivals hall. Fares are metered. Journeys to the centre of Sultanahmet should be around TL15-TL18 (half as much again at night). The ride takes about 20 minutes but can stretch to 45 minutes if the traffic's bad. To Taksim, it costs around TL23 and takes anywhere between 20-50 minutes.
Istanbul's international Atatürk Airport

,