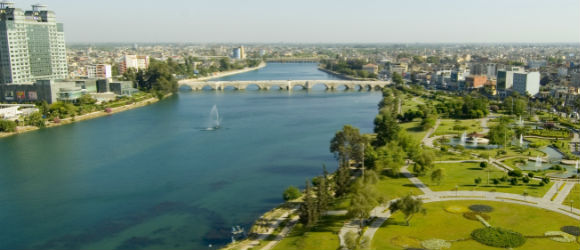 Adana lying a fair distance away from the Mediterranean coast, in the centre of huge Cilician Plains and on the banks of Seyhan River, Adana is one of the most populated cities in Turkey with a population of over 1.5 million. It's not much known as a tourism destination, though, especially when compared with its southern and western neighbours. However, that being said there are a number of sites of interest in the surrounding countryside.
Modern Adana consists of two quite separate sections: cramped old city centre and newer, mostly high-rise suburbs overlooking the Seyhan dam to north of the old centre, usually called Kuzey Adana or Yeni Adana (i.e. "North Adana" or "New Adana", respectively).
People of Adana, Adanalı, are well known with their bravery, honesty and generosity, but less known with their fluid intelligence that is not much bounded by structures of thought or belief systems. In a clear state of mind, this type of intelligence opens immense creativity and productivity; without clarity swings person from great production to great destruction.
Unique culture of Adana, which is not seen elsewhere in Turkey, is not easily understood and often underrated. Many Adanalı have taken significant roles in the society that revolutionized the environment they are in. One prominent figure of fluid intelligence is Fatih Terim, Turkey's all-time best football coach, who carried Galatasaray to the UEFA Cup title and led Turkish Football to an upgrade at the world stage. Unawareness of his intelligence, in spite, put him in violent behavior in many instances.
One of the major elements that define the society of Adana is the agriculture based living and it's extension, agriculture based industrial culture. However, the developments in the industrial life, improvements in transportation, effects of communication and massive migrations affect the unique culture of Adana. At a city where variety of cultures live, as the tissue fusion did not end, the mosaic culture can not turn to a new union of culture. Similar to other cities in Turkey, the culture in some sections in the city are very distant from each other.
The city was well known with its vibrant nightlife and many pavyons during the decades from 1950s to 1980s. Although some were family entertainment places, pavyons mostly functioned as adult entertainment clubs, similar to hostess clubs of Japan, with live music, usually two-storey, a stage and a lounge with tables lined up at the main floor and private rooms at the upper floor. The first pavyons opened in the city by 1942 with the arrival of English workers who worked on the Adana-Ulukışla road that was funded by the British Government to convince Turkey to form a front at the World War II. As Çukurova cotton is valued by early 1950s, the surplus took landowners to the pavyons which opened more and more along the Seyhan river. In 1960s, rapid industrialization brought more men to pavyons not only from the city, but from a wide region including Istanbul and Ankara, thus Adana was named Pavyon Capital of Turkey. Many popular singers took stage at and owe their fame to the pavyons of Adana. Bargirls working at the pavyons were coming from allover Turkey, and many were getting quickly rich with the money spread on them.
Pavyons led their way to Western-style pubs and night clubs by late 1980s with the socio-economic changes in Adana. The city with strong entertainment culture has easily adopted to the new style, as many classy clubs opened since then. The traditional entertainment district is Sular, near Central Station, but the pubs and clubs nowadays are spread to the entire city. The big clubs like Life Legend, Uptown, Casara and Lava host world star singers at their elegant locations, mostly along the river and the lake. There are still two active pavyons, Afrodit and Maksim, but adult entertainment is directed mostly to what is locally known as tele-bars. Tele-bars are licensed as regular pubs, but function as places where bargirls entertain customers and usually hook with them afterwards. There are around 20 tele-bars mainly in the city center and around the old dam.
The Adana Brothel, in the old town, was made up of houses lining up along a dead end street which was gated at the street entrance and was secured by a policeman, gateman and a military person. The prostitutes were classified into three and each class had their own houses and customers. First class prostitutes were young and attractive, second class were middle-aged women and the third class were older and 'less attractive' ones. Each prostitute used to host a friend in her off-days, even giving him money to get protected by him in return. The brothel moved west of the Central Bus Station in 1980s.
LGBT life is mostly hidden in Adana, but more people and organizations are coming out recently. Çukurova Homosexuals Initiative is an organization founded in 2010 with participation from Adana, Mersin and Antakya to raise awareness for LGBT issues.Hamams in the city center are the favorite meeting places for gays; some pubs, clubs and the city parks, especially the Atatürk Park at dark are also meeting spots. Many transgendered live prison lives at their family homes, some do leave home and become prostitutes and some move to Istanbul to join the big LGBT community, but still end up with prostitution since they can not find any other choice.
Get around in Adana
Walking in Adana ; You can explore downtown Adana by walking. It is very easy and enjoyable to walk around city centre.
City buses ; Extensive bus network including city buses and dolmuş.
Adana Metro ; There is also a subway line, which recently opened, though on a short stub of 8 stations.
Many taxis with prices comparable to the rest of the country.
Must see places in Adana
Justinianus Roman Bridge
Seyhan Dam, Love Island and American Island
Çatalan Bridge (longest bridge in Turkey)
Old Town and the Clock Tower
Old Dam and Dilberler Seki Road (riverside)
Archaeological Museum of Adana Opened and now entrance fee, but except the stone monuments the museum artifacts are in restauration process (September 2012)
Central Park
Sabancı Mosque One place you should not miss while in Adana. The mosque was built in 1999 and is the largest mosque in Turkey.
Ethnographic Museum of Adana.
Atatürk Museum.
Misis Mosaic Museum.
State Fine Arts Gallery.
Adana Turkey Airport
Adana Airport or Adana Şakirpaşa Airport (Turkish: Adana Şakirpaşa Havalimanı) (IATA: ADA, ICAO: LTAF) is an airport located in the city of Adana in the Adana Province of Turkey. Adana Airport was opened to service as a civil-military airport in 1937. It started to be used as a civil airport in 1956. It is 3.5 km away from the city center.
Adana, Turkey

,