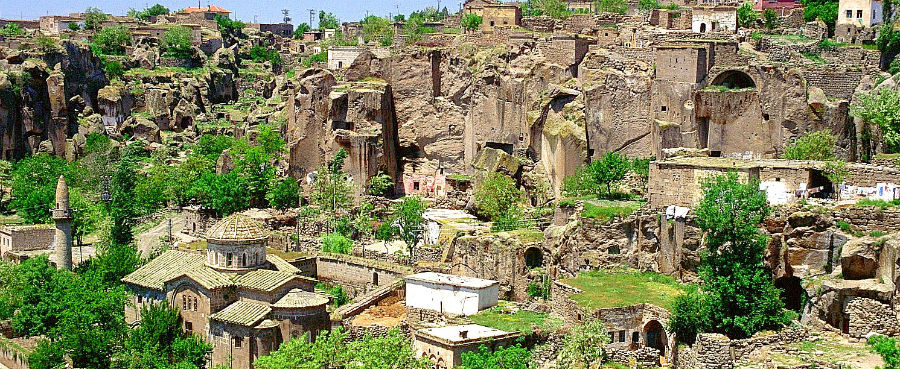 Guzelyurt, formerly Gelveri, is a town and district of Aksaray Province in the Central Anatolia region of Turkey, at a distance of 45 km from the city of Aksaray. According to 2000 census, population of the district is 16,836 of which 3,775 live in the town of Guzelyurt. The district covers an area of 322 km2 and the average elevation is 1,485 m.
This is an area of great natural beauty and historical importance, part of the ancient region of Cappadocia, near the much-visited Ihlara Valley.
Cappadocia has an important place in the history of Christianity and Gregory of Nazianzus lived in the area. A historically large Greek population existed in the area until the 1924 population exchange (see Cappadocian Greeks), when they were replaced with the Turks from Thessaloniki and Kavala.
Guzelyurt is known for having three underground cities and over 50 churches carved into the rocky volcanic landscape including:
    Ihlara Valley
    Monastery Valley, "Manastır Vadisi"
    Fairy Chimneys, "Peri Bacaları"
    Antique Greek houses
    Ahmatlı Church
    St. Anargiros Church, "Sivişli Kilise"
    Koç Church
    Cathedral of Selime
    The rock monastery of Selime, one of the largest religious buildings in Cappadocia.
    Red Church, "Kızıl Kilise" – a 5th or 6th century church in the village of Sivrihisar
    Analipsis Church, "Yüksek Kilise" (High Church) on the hill of Analipsis. Stone age relics have been found nearby.
    St. Gregorius Church, "Kilise Cami" – another rock-hewn church, in use today as a mosque
    St. Spyridon Church, "Kızıl Kilise" – another red church in the vicinity of Güzelyurt.
Other places of interest include…
    The tomb of Selime Sultan in the village of Selime.
    Linseed House, "Bezirhane" in the village of Belisırma.
    Ziga thermal springs, "Ziga kaplıcaları" is located in the village of Yaprakhisar very close to Ihlara Valley.
    A recently discovered underground city is situated in Gaziemir village of Güzelyurt.
 There is a town on the edge of Cappadocia called Guzelyurt is one of favorite discoveries !
Güzelyurt means "beautiful land." It's best known in Turkey as the town where historic enemies  Greeks, Turks, Kurds, and Bulgarians  live in peace. The town is a harmony of cultures, history, architecture, and religions. Walk down streets that residents from 3,000 years ago might recognize, past homes carved into the rocks, enjoying friendly greetings of merhaba (hello). Scowling sheepdogs, caged behind 10-foot-high troglodyte rockeries, give the scene just enough tension.
Walk to a viewpoint at the far side of town (above the Sivisli church), toward the snowy slopes of the Fuji-like volcano that rules the horizon. Before you is a lush and living gorge. The cliff rising from the gorge is stacked with building styles: Upon the 1,600-year-old church sit troglodyte caves, Selcuk arches, and Ottoman facades. And on the horizon gleams the tin dome of the 20th-century mosque, with its twin minarets giving you a constant visual call to prayer. The honey that holds this architectural baklava together is the people.
Put your camera away, close your mouth, and sit silently in the sounds of 1000 B.C. Children play, birds chirp, roosters crow, shepherds chase goats, and mothers cackle. (Ignore that distant motorbike.)
Below you, sleeping in the greens and wet browns of this tidepool of simple living, is the church of St. Gregorius. Built in 385, it's thought by Gregorian fans to be the birthplace of church music, specifically the Gregorian chant. Its single minaret indicates that it's preserved as a mosque today in a valley where people call god Allah.
Güzelyurt, in central Turkey, is 35 miles from Nevsehir and a short bus ride from Aksaray. It's near the Peristrema Valley, famous for its seven-mile hike through a lush valley of poplar groves, eagles, vultures, and early Christian churches.
Guzelyurt, Cappadocia

,