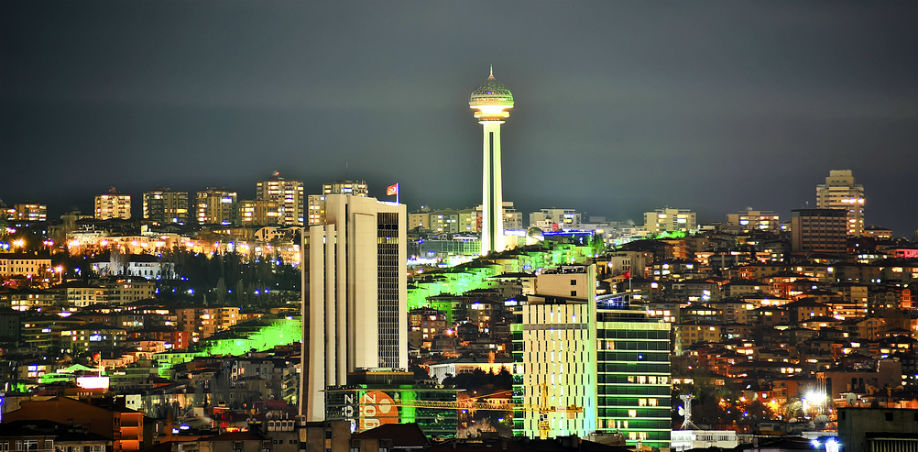 Ankara is the capital city of Turkey and the second largest city in the country after Istanbul. It is located at the heart of both Turkey and Central Anatolia. The population is around 4.5 million.
Ankara is the administrative center of Turkey and a huge university town, so it has a large population of government workers and university students. As the national capital Ankara is home to a large population of foreign diplomats and embassy staff, so it offers goods and services that might be more difficult to find in other Turkish cities  for example you will have no problem ordering a cappucino or a hamburger.
Ankara is a sprawling, modern city which can appear as little more than a dull, concrete jungle at first glance. As a result, many tourists tend to use it merely as a transit point for getting to places like Konya or Cappodocia. However Ankara does have a lot to offer for those prepared to look a bit deeper.
The locals are generally helpful to tourists, and only a few people can communicate in English. Although most people will try to communicate with you somehow, it's a good idea to bring a Turkish phrasebook or dictionary. Ankara is the administrative center of Turkey and a huge university town such that most of its inhabitants consist of civil servants, students and academics.
Apart from the old town in and around the citadel near Ulus and unplanned shantytown neighbourhoods inhabited by people from rural areas in the last five decades, most of Ankara, which was a provincial town of 20,000 people in the early days of the Republic, is a purpose-built capital due to its strategic location at the heart of the country. The history of settlement in the area is millenia old.
The biggest claim to fame of the town used to be the long-haired local breed of goats named after former name of the city (Angora), out of which high quality mohair textiles were produced, today the only place where you can spot them in city is the lawns on the side of a clover-leaf interchange on the highway west in the form of cute sculptures.
Orientation
---
Ankara is quite a large city, with different towns and neighborhoods of their own characters. In a very simplified manner, most attractions of the city run through the long Ataturk Boulevard, running and diving the city north to south. Starting from Ulus Square, going towards south in Ataturk Boulevard, you will reach Kizilay, Kavaklidere and then Çankaya. As you pass through these districts one by one, the standards visibly increase.
Ulus is the historic center of Ankara, with most museums, early republican buildings, and the ancient Ankara Castle. Being the most elegant center of the republic in the beginning of the 20th century, now the area has left its charm, and is a messy, crowded neighborhood. Unless you are looking for the real cheap, (rather than some specific selections) not recommended for dining, accommodations or nightlife. In case you are interested to get a feeling of how life was once in Ankara, find Hamamonu District, the newly restored neighborhood with old Ankara houses. A famous spot for the conservative Ankarans, walk through the narrow traditional streets, and sip your Turkish coffee in an historic wooden house, especially at the night. Do not expect to find alcohol at Hamamonu.
Next, Kizilay is the working class center of Ankara. The famous Kizilay Square, named after the now-demolished "Red Crescent" headquarters building, is Ankara's political center. Throughout the decades, lot's of protests and rallies has taken place in the square, and even today, this is the center of the political protests. Many roads and streets around Kizilay are better discovered on foot, and there are lot's of budget restaurants, cafes, bars, and clubs of different taste. Sakarya Caddesi (Sakarya Road) is a messy pedestrian area with fisheries, street sellers and restaurants. Pass over the southern side of Ziya Gokalp Caddesi, the parallel vehicle road, and you will reach the district around Yuksel Caddesi (Yuksel Road). This pedestrian neighborhood is a left oriented area, with several culture centers, cafes, pubs, restaurants and bookstores. Many locals looking for quality avoids Ulus and Kizilay.
Continuing southern, the area after Kizilay and up to Kugulu Part (Swan Park) is Kavaklidere, also simply known Tunali district (Tunali Hilmi Caddesi/Road runs parallel to Ataturk Blvd, and locals simply name it and around as Tunali.) The area is more cosmopolitan, open minded, and popular among the young. The back streets are full of cafes, restaurants, pubs to rock venues.
Walking up from Kugulu Park (Swan Park), pass to Arjantin Street and in the end, turn left to Filistin Street. These two are where the top end cafes and restaurants are found, full of Ankara's chick and elegant going there to see and be seen. Further south, you reach Atakule Tower at Çankaya, the diplomatic center of Ankara, with the Presidential Palace and most embassies. From Kugulu Park to up, Ankara's nicest parks are aligned, namely Segmenler Park and Botanical Garden, in addition to small but cure Kugulu Park.
Rather than this alignment on Ataturk Blvd., check Bahçelievler District, west of Kizilay. 7th Road (7.Cadde) and around is a student oriented and family friendly region with shops, cafes and restaurants.
Further west, through Eskisehir Road, you will pass through the once suburban neighborhoods of Bilkent, Umitkoy and Cayyolu, which are new modern towns, less of an interest to tourists, but offers good dining and nightlife. Visit Park Caddesi, the areas newly created nightlife center.
Getting Around
---
Ankara is well connected by a good public transport network system. Private and public bus operators compete for your patronage and there are the 'dolmus' minibus transport providers that offer rapid tranfers and get you to your connection points. The underground subway 'Metro' is highly efficient which runs between outer suburbs and the interstate bus terminal 'ASTI'. Taxis are readily available and are probably the best way to get to your destination, relatively inexpensive for the time poor traveller.
Climate
---
As any other part of the Anatolian highland, the winters are cold and usually snowy. Temperature is regularly below the freezing point during this season, but it rarely drops below -15° C. Thanks to the low levels of relative humidity, the hot and dry summers are more comfortable than coastal regions of Turkey. Summer nights are cool, though, so be sure to bring at least a cardigan with you to wear outdoors. Spring and autumn are the wettest seasons, but with an annual rainfall amount of 415 mm (i.e., a semi-arid climate), you are unlikely to get much wet during your trip to Ankara, anyway.
Must See Places in Ankara
---
Anıtkabir, open daily, museum open daily except Mondays – situated on an imposing hill in the Anittepe quarter of the city is the mausoleum of Mustafa Kemal Atatürk, the founder of the Republic of Turkey, completed in 1953. A museum nearby displays a large collection of Atatürk memorabilia and paraphernalia
Atakule Tower, Çankaya. The highest structure of the city, with a shopping mall located under the tower. (Note: Atakule shopping mall itself, where very few shops are left open, will close in autumn as it will be transformed to a hotel.) (10 TYR from 10 till ?): not so great view from this tower but very nice air smell on tower's view floor plus likeable botanical garden situated near tower in parallel of Cinnah cad. To reach Atakule you can use any bus what have in it route this point (i.e. Atakule) (it's be good idea because tower situated on the hill it cost now 1.75 TYL be EGO-card or 2 TYR on monetized bus. You may return by step via Cinnah cad and continue your path by Ataturk boulevard. It will take to Kizilay about 40 minutes
 Museums
Ankara Ethnography Museum, Talat Paşa Bulv, Ulus (opposite the Opera House).
Museum of Anatolian Civilizations (Anadolu Medeniyetleri Müzesi), Gözcü Sokak 2, Ulus (on the way to the citadel from Ulus),  +90 312 324 31 60 (anmedmuz@ttnet.net.tr, fax: +90 312 311 28 39), . Display of artifacts remained from Asia Minor/Anatolian civilizations. Oldest artifacts in display date back to Paleolithic. This museum is one of the best in Turkey and it makes Ankara worthwile to visit. The building itself occupies two Ottoman era buildings which are very handsome. Admission is 15 TL for adults. As of November 2012 significant parts of the museum are closed for renovation.
State Art and Sculpture Museum, (near the Ethnography Museum). Hosts galleries with temporary exhibitions as well as a permanent display of Turkish art from late 1800s up to today.
Cer Modern. The recently-opened (Apr 2010) modern art museum of the city, Cer Modern is housed in the historic power plant building of Turkish Railways. Contemporary art.
War of Independence Museum (Kurtuluş Savaşı Müzesi), Ulus Square. This originally was the first building which hosted Turkish Republican Parliament, in which the War of Independence, fought in 1921-22 was directed from, as evidenced by photographs and other items in the display. Waxworks of former Turkish presidents are also on display.
TCDD Open Air Steam Locomotive Museum. An open-air museum.
Çengelhan Rahmi Koç Museum, . Similar to Istanbul's industrial museum (of which Çengelhan is actually a part), the technological progress from 1850s onwards is on display in this museum housed in an old Ottoman caravanserai. The museum contains various curios and collectibles including model trains to model sowing machines. It also contains a good collection of children toys and rooms hosting assorted technological collections such as cameras, diving equipment, telephones etc). Admission is 6 TL for adults.
Ankara Aviation Museum, Etimesgut (near highway to Istanbul). Various aircrafts, aviation items, missiles, and whatnot are in the exhibition, as well as a number of MiGs from the other side of Iron Curtain. It's museum not so large like same museum in Istanbul, but may be a interesting too. It's full name is Hava Kuvveterlı Müzesi, i.e. Airforce museum. You can reach this museum by taking shared taxi (minibus) aka dolmuş from Ulus bus station. It can be reached in such way: on Ulus square you must find Ataturk on the horse monument. Let stay back to monument's face and cross the crossroad with traffic light. Straight go down till next traffic light. On this cross road turn right and you immediately see bus station with many blue or blue and white minibus. You must find bus stop on Etimesgut Try to show museum name to driver. He must say "Tam" and nod by head. Driving time on good traffic condition about 20 min (2 TYL). Driver drop off you on pedestrian crossing, you must cross highway and continue forward motion in your minibus direction (about 5-10 min, be aware this way not very comfortable) while you not see anti-craft missile complex, then turn left and near missile you are see museum entrance (red brick booth). Entrance fee in april 2013 is 5 TYL, working time something like 9-16, but it not true in last point. Backing to Ankara about same: you go out on highway's margin and hitch minibus what driving to Ulus (20 min, 2 TYL).
METU Science and Technology Museum (on Middle East Technical University campus, on the highway to Eskişehir).
MTA Museum of Natural History, (MTA Tabiat Tarihi Müzesi)It is one of the museums in Ankara that should be on your "to-see-list" on the highway to Eskişehir.
Ankara, Turkey

,