"An amazings boutique hotel where you least expect it."
We believe that the combination of the spectacular locations and picturesque scenery in each region and the quality as well as the individuality of our exclusive properties offers you a totally unforgettable experience of 5-star luxury in this wonderful country with innovative style and exceptional class of accommodation and services..

Witt Istanbul Hotel is a luxurious spacious boutique hotel where you'll feel right at home, offering 17 rooms with a modern-retro lasting design. But don't just take our word for it and check out the
Awards Witt Hotel Istanbul
received so far.
Karia Bel offering you the opportunity to have an unforgettable holiday in a breathtaking bay of Marmaris, situated at the point where the Mediterranean and Aegean Seas meet. Karia Bel' is a charming hotel situated directly on the sea. It has a spectacular view and a unique jetty (beach) of its own. Karia Bel' has 13 uniquely decorated guestrooms with bathrooms. The rooms are overlooking the Aegean blue sea and Greek Island Symi.

Terrace houses a trio of 19th century cottages built by the Greeks before they abandoned this pretty hill town, and restored with lashings of love and personality. You'll find reclaimed marble basins and claw-footed tubs, vast sleigh beds and snuggly sleeping lofts, cool Chinese lanterns and wrought iron chandeliers, strings of drying red peppers in the kitchens and clutches of fresh pink oleander by the bedside. These are cosy homes with character and history.
In ancient times people who were escaping the tough living conditions in the city of
Ephesus
discovered this tranquil village. Gullu Konak ("Rose Residence") is the most exclusive place to witness this heavenly atmosphere. Gullu Konak offers you six exclusively decorated, luxurious rooms where you can experience
Şirince
's tranquility, joy and pleasure. Each room of Gullu Konak is named after one of the colorful roses beautifying its garden for a century.
A distinguished boutique Hotel, A'jia is a traditional Ottoman mansion that jewels the Asian shores of the Bosphorus. With well appointed contemporary interior design, and its centuries old architecture the venue oozes trend and excitement. When you add the extraordinary attention to detail, individualized service and HIP aspect in the mix, hotel experiences is simply redefined. With its 16 rooms that feature breathtaking scenes from the Bosphorus, A'jia truly offers a private hideaway with easy access to historical and cultural attractions of the city. Contributing to overall experience of its valued guests, each room is a delight to discover as they are uniquely designed, furnished and equipped with all the latest gimmicks and amenties belending in perfectly with the timeless elegance of the 1800's. The A'jia restaurant is an exlusive venue with a gusto that is happy duel any 'gourmet' to perfection. And private events are a treat, with unique approach in offering exqusitive menus and creative ideas. Whether you drive or take the complimentary A'jia boat shuttle it is a feast on eyes.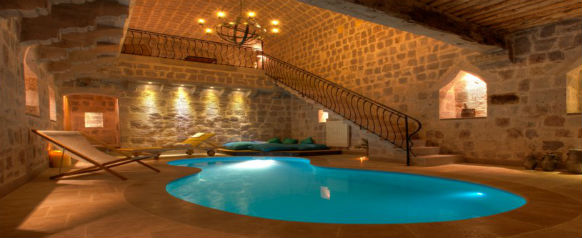 argos in Cappadocia
, a labor of love 15 years in the making and now a world-class hotel that exceeds the expectations of the most sophisticated of international travelers, is a complex of some ancient dwellings turned into a world-class luxury hotel. The dream was enhanced with the discovery of the ruins of Bezirhane, a 2,000-year old rock-hewn monastery and later hostel for camel caravans on the legendary Silk Road. A highly imaginative 42 room boutique hotel that reinterprets the rich traditions of the past for today's discerning travelers in breathtaking fashion, argos in Cappadocia boasts of its Seki Restaurant-Lounge-Cellar, its underground cellars that made it "one of the best 10 wine resorts of the world.
Galata Antique Hotel
was built in the early 19th century in Pera (former name of Beyoglu) as a mansion for a French levantine family "Décugis". Neo- Renaissance style mansion is constructed by the talented architect Alexander Vallaury. 5 storey building consists of 22 guest rooms and a roof top terrace where the breakfast is served. Galata Antique Hotel is conveniently located in Istanbul's one of the famous bohemian quarters
Tunnel
(Tünel Meydani).
Istanbul
best restaurants, bars, cafes and a short stroll to everything else is in this genuine district, Beyoglu..
Museum Hotel
is more than its name suggests. Arriving at this unique and distinctive hotel in
Cappadocia
is like stepping into another world filled with natural, vibrant splendour and steeped in history, which has witnessed the glories of Greek, Byzantine and Ottoman cultures. The view from the Museum Hotel must count amount the most breathtaking in the world and the setting itself is just as extraordinary. Elsewhere an infinity-like Roman pool invites guests to bask in its beauty and Lil'a Restaurant offers top quality Cappadocian cuisine. Museum Hotel is a unique boutique complex in all sense. It's "unique"..
With its exquisitely furnished guest rooms reflecting the Ottoman art, trend-setting restaurants and bars, extensive guest services and in-house amenities,
Ottoman Hotel Imperial
responds to the needs of the most demanding leisure and business travelers. Built as an Ottoman school and hospital in the mid of 1800`s, the hotel was renovated and reconstructed in 2006 to a special class historical hotel. Ottoman Hotel Imperial is situated on the truly premium location in
Istanbul
, on an elevated position, surrounded by all the major historical and cultural sights in the heart of the old town, Sultanahmet, viewing the impressive
Hagia Sophia Museum
. This is an inspiring location all year around, within easy walking distance of Sultanahmet Square,
Topkapi Palace
,
Blue Mosque
,
Hippodrome
and the other main historic and shopping districts and just 19 km from
Istanbul International Airport
. Ottoman Hotel Imperial has the most spacious hotel rooms in the old town. All rooms have been recently refurbished with oriental, elegant and comfortable furnishings. The hotel offers 2 different types of rooms and suits catering to every need. Ottoman Hotel Imperial offers wide variety of services, facilities and amenities including 2 restaurants, Matbah Restaurant *Ottoman Palace Cuisine*, 2 bars, large garden and terrace area, laundry & valet service, 24 hours room service, parking facilities, business services and many other in-house amenities that will make your holiday a memorable experience in this fantastic city. Traditional Turkish hospitality, comfort, elegant premium service, an unbeatable view of Hagia Sophia Museum and Sultanahmet Square and a blend of Ottoman and Istanbul cuisine is what you will experience at the Ottoman Hotel Imperial..
At the architecture of the
Sultanhan Hotel
, which began serving in Sultanahmet, the center of the historical peninsula, Seldug and Ottoman decoration elements are preferred due to its location, the external window railings, store surfacing, balcony rails, consoles, the central part with the entrance door and the covering of the ground floor front is realized with handmade stonework of Antalya-Elmalı style. The balcony railings are specially casted aluminium with Seldug motives.
Boasting the classification of "Special Class Hotel", Tuvana Hotel is an oasis of relaxation and quiescence, ensconced in the heart of the historical Mediterranean metropolis of Antalya. The Tuvana Hotel, chosen the most romantic hotel of the world in 2011, was once the house of a successful Ottoman officer, Abdi Efendi, and the centre of prestigious imperial visits during the early 18th century. Now it has been transformed into a distinguished boutique hotel, surrounded by orange, plum, tangerine and pomegranate trees, creating a fragrantly nonpareil atmosphere and managed by ancestors of Abdi Efendi, with whom you can meet during your stay in the hotel and enjoy their hospitality..
Kasr-ı Nehroz
… A dignified, strong building which witnessed to most of the periods of the history of 1600 years... It seems as if it promises to tell mysterious stories at first sight with its epic silhouette, its noble form which evokes a medallion, its proud walls which try to keep away itself from the unsteadiness of the Middle Age and its two towers that rise upright as if it challenges the changing ages… Kasr-ı Nehroz will open the way for Midyat to become a new focal point of departure and accommodation for the trips organized to the region with its wide touristic hinterland and its historical beauties. The alternative trips centring Midyat would help countless nearby historical wealth come to light. This summer place was used by one of the first Muslim families as home for 260 years in Midyat, where Syrian lived for centuries. 1200 years ago the summer place was built with its two bastions in style of a church and was used as Assyrian church for many years. In 1750 the Assyrians invited the Nehroz to Midyat to avoid the attacks of the tribes around. So the neighborhood and the house, where the Nehroz moved in, were called by their name..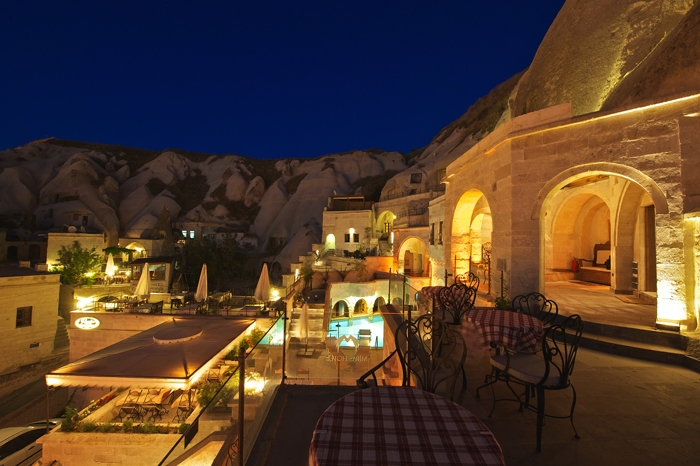 The fairy tales usually start with "once upon a time".
Miras Hotel
is just there to welcome you in an unparalleled mystic Cappadocian ambience, promoting you to write your own fairy tale. Each individually decorated, 8 stone carved rooms are designed in convenience and comfort. History and modernity blend in to create an ideal place for a romantic escape. This wonderful structure, a heritage of the past, was authentically revived. After a 2,5-year-long exertive restoration, Miras Hotel was brought to life, freshly interpreting the concept of stone-carved houses and teaming past with today. Once you put your head on pillows, you'll be attracted by a time travel. And what's more, the hotel is just a walk's distance to G
oreme Open Air Museum
. You can taste local and delicious meals. And our luscious breakfast will be ready for you.

As it were a hidden vacation temple, with the mountain at the back and sea in front... It is so hidden into the mother nature's bosom that you can not pass just so.... Have to be a bird and fly to reach there, or to be a fish and swim... All of rooms are suite and has island and sea view and each has been furnished different and more comfortable than the others and with materials compatible with nature. There are 10 suites, widths ranged from 50 to 70 m2. All rooms has minibar, LCD TV, AC, telephone, free internet access and private rooms also have a jacuzzi. And it has no road, from the Bozburun Harbour with own watercrats with pleasure and make you start to live the first moments of the paradise on one of the few beautiful seas of the world.. This unforgettable vacation is your choice.
Easily Book your guided private
Ephesus tours
, to see all the treasures of Ephesus Turkey. It's often said that Turkey has more ancient cities and classical ruins than does Greece. Well, it's true, and the Aegean coast holds a great number of sites, including Ephesus, the grandest and best-preserved of them all. We offer you no-nonsense
private tours
experience which not only incorporates Fun into a Culture-and-Knowledge-based tour but also guarantees you absolute Comfort and Flexibility without the hassle of being taken to various factory outlets or shopping stops along the way!