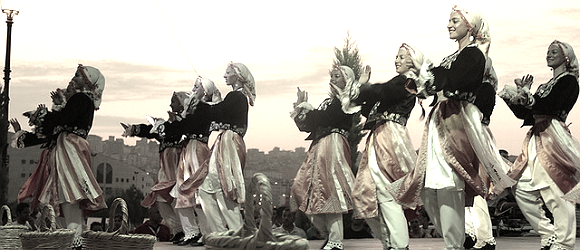 Anatolia, either a bridge or a home to many civilizations, has inherited great wealth in terms of folklore as well. Whether it's from gestures and mimics of the people of the art forms reflecting the folklore of the country, you have the opportunity to readily look into the customs, traditions, and spirit of Turkey and the Turks.
Handicraft- each work carrying the character of its area and people… hand painted cloths, embroidery, carvings, small bags, stockings, hand woven rugs and Killms.
Folksongs accompanied by instruments- (cura, dümbelek, tef) -all types of saz (lute) particular to Middle Eastern music listen to these songs that echo the joy, pain, suffering, bravery, and world outlook of the Anatolian people the wandering minstrels (Aşık) travelling from place to place with lute in hand, writing the words and composing songs about people and places they've seen all fine examples of musical folklore.
And the folk dances another mirror of Anatolian life, past and present… if you leave without seeing them, you haven't been here… the Zeybek dances of the Aegean shores…
Horon of the Black Sea… Karşılayamalar from the Marmara area… the Kılıç Kalkan (Sword and Shield) of Bursa… Kaşık Dances of the South.
Bar dances of the East and the famous Halay Dances of central Anatolia. With their dance form, figures, music, instruments, and great variety of costumes, the dances will introduce you a different tableau for each region of Anatolia. The Karagöz puppet shows or the Meddah story -telling add yet more flavor and colour to Turkish folklore criticizing with satire, characters and events from the past.
Turkish folklore

,