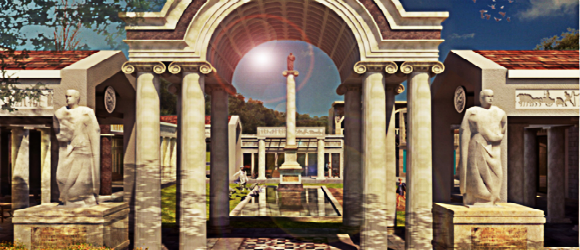 Cittantica Ephesus Park VIP Opening Cocktail Reception ; We will be honored to wait see you.
Date: 3 May 2014 Saturday
Location; Cittanti Ephesus Park
Isabey Mh. Ataturk Cd. No: 137 Selcuk, Izmir 37058'3-42″N 27°22'24.i4″E
With the concept of the Roman period and the ongoing construction of which will serve Turkey's first theme park " Cittanti Ephesus Park " in April, will be opened in Izmir Selcuk . Park, will give life to the spirit of antiquity authentic and staying alive thousands of years earlier will offer the opportunity everyday life .
Cittantica 's Managing Director Celal Coskun, " Complex located in Artemis, named multi-purpose hall in our group dinners , weddings, concerts and other social events can edit . Cittanti of Ephesus Park with this feature , even if only at Selcuk not the entire region respond to the needs that might be there. Regional tourism as telling it , and we our revenue to increase as higher -income tourists should pull , as well as unique visitors ( independent browsing tourists ) need to win . Tourism 's dynamics be able to see . sight as long as we in time lost and go . this park is a tourist and innovation as we see , "he said .
Coates in the region, there is a need for different shooting elements , Cittanti Ephesus as part of the park will meet this need , but that there is still a need for different shooting center said. Coskun, " tourism to other sectors alike. Tourism in the price of breaking its your foot bullet from no difference . Therefore be different you have . Difference to quality , with the presentation must create . Quality there should try to be . They do as long as you survive can ," he said .
Regional tourism in a very special place is reminiscent of Selçuk, Ephesus and the Virgin Mary, a "regional tourism ring of the ring at the top of the Main pırlantalardır these likenesses. These values tourism products globe rattles. Tourism and other sectors. Breaking the price competition in tourism. You have to put out a notice, you have to improve your presentation. There should be quality. I will survive as long as you "expression.
The entire staff to work at the County citizens will not be active all year and only season there is this sense, indicating that employment will be provided to 110, multilingual, sales ability, young people who want to make a career in tourism, announced they wanted to employ an open vision of the Seljuks.
Can generate a field which is nearly identical to the theme park, indicating also the caravanserai in this area to create a marketplace, and specific features of the region with producing announced the gift they want to work with. Clark, said: "you can think of this area as a souvenir of the marketplace producing artisan and would like to place this theme crafter. That's why I'd like to make a call to the Seljuk entrepreneurs here. SOAP, felt, glass, etc. articles are engaged in manufacturing trades and the ippodromo del Mediterraneo horse is welcome. Here you can sell their products without paying the rent, even. Emphasis on the presentation of the show and the Affairs of this theme park. In short, can be evaluated in the market place, located in the Park area features, and we'd love to work with people who are producing here-specific souvenirs "
Cittantica Ephesus Park

,