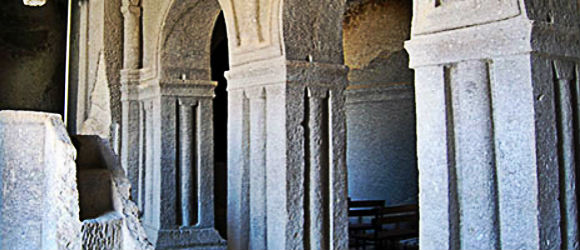 This basilica style church differs from the others in that it has a pulpit in the centre, its columns are thick and rectangular in shape, it has a baptistery and graves  hollowed out of the walls in the first section. The church, dating back to the 6th and 7th centuries, displays some of the most beautiful examples of carved decorations.
The church is in the style of basilica and is composed of a throne of the Priest, large rectangular pillars, place for the baptism event and various shaped tombs engraved in the walls of first section. The church accommodates the most beautiful samples of rock embossed decorations and is dated to be constructed in the 6th and 7th century.
The church which is located on Goreme open air museum takes its name from the owner of the garden in front of the church. An example of two-storey churches of the period applied to the rock .Due to the use of as a pigeon house for many years preserved it well. Durmuş Kadir Church which has no frescoes, built of cut stone and has the most beautiful examples of embossed decorations. The rectangular formed Durmuş Kadir Church is different from the others with a dais so called ambon in the middle of it. Ambon in Durmuş Kadir Church is very important because it is the only example of being preserved in the rock churches of Cappadocia. The church is very impressive with rectangular columns in the main venue and has many large and small tombs carved into the walls at the entrance.
Durmus Kadir Church

,